Unlike some water damage restoration companies out there, water damage does not have a set 9-5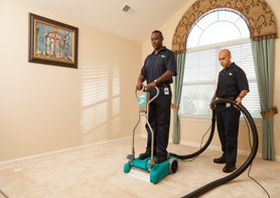 schedule. A cracked pipe, leaky roof, burst water heater, or flash flood can happen at any time. And, more often than not, water disasters, such as those we just mentioned, always seem to occur outside of that 9-5 timeframe. So what do you do when you are faced with a disaster at midnight? You can't be expected to wait until 9am to rectify the situation. The longer you wait to act, the worse the damage can and probably will become. So do you try to handle the situation yourself? Of course not. You do not have the expertise or equipment to handle water damage. You need a professional, but who?
ServiceMaster of Lincoln Park: 24/7 Water Damage Restoration in Chicago
 While we hope a disaster never happens to you, our technicians are ready 24 hours a day, 7 days a week, 365 days a year to help rectify your situation. We are committed to providing excellent work, exceptional customer service, and above all, peace of mind. 
Why do I need a Professional Water Damage Restoration Company?
While many homeowners in Chicago think they can handle water intrusion themselves, the truth is they can't. Not only does the average homeowner not have the expertise and equipment to handle water damage, but it's also not safe. Water damage is classified into three categories: clean water, grey water, and black water. Each is progressively worse than the last. And if you do not know what type of water you are dealing with, it is best to stay away.
Clean

Water does not contain contaminants.

Grey

Water contains a significant degree of chemical, biological or physical contaminants.

Black

Water has come into contact with fecal matter.
Do yourself a favor and call ServiceMaster of Lincoln Park in Chicago at the first sign of trouble. We will be able to remove any standing water, dry any damage to your structure, and remove wet drywall, carpets and pads, hardwood floors and more as necessary. With years of experience in helping individuals and families like you with flood restoration, ServiceMaster is the best choice for the job.
If you have any questions about 24/7 Water Damage Restoration in Chicago, please contact us by calling 773-678-9111 or click here today! Follow us on Facebook and Twitter as well!