Water damage can be devastating. Sewage damage, meanwhile, is even worse. A form of water damage,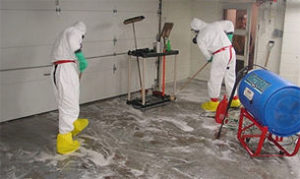 sewage damage is most often caused by a burst sewer pipe or backed up toilet.
Sewage damage involves what is known as black water, the worst of the three categories of water. Category one, or clean water, refers to water damage that does not contain any contaminants. Category two, or grey water, refers to water damage that contains a significant degree of chemical, biological or physical contaminants, And category three, or black water, is the most dangerous of all as it has come into contact with fecal matter, a haven for harmful bacteria and disease-causing pathogens. For these reasons, it is important to call a Chicago water damage restoration company, like ServiceMaster of Lincoln Park Chicago, immediately! 
Sewage Damage Tips from your Chicago Water Damage Experts
First and foremost, do not come into contact with the contaminated areas and call a plumber to fix the problem immediately.
As we just mentioned, the next thing you should do is call ServiceMaster of Lincoln Park Chicago, your Chicago water damage experts. We handle every water damage job with the utmost care, speed, and effectiveness. Our goal is to restore your property as quickly as possible! And with over 57 years of experience in the water damage restoration business, we are the clear choice for the job.
Do not attempt a do-it-yourself (DIY) restoration. Not only is this not healthy, but it is also not smart. While a DIY restoration may seem like a great way to save money, it could end up costing you more money in the long run. Water damage restoration requires the right tools, tools which the average homeowner does not own.
if you have any questions about Chicago Water Damage Restoration, please contact ServiceMaster of Lincoln Park Chicago by calling 773-678-9111 or click here today! Follow us on Facebook and Twitter as well!