When your home or business is struck by water damage, the last thing you have time to do is sit aroundand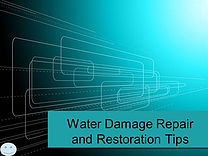 feel sorry for yourself. Time is of the essence. Acting quickly will help minimize water damage, while failing to act quickly could result in increased water damage, higher homeowner insurance rates, decreased resale value, and even an increased risk of mold and health issues
Water Damage Restoration Tips from ServiceMaster of Lincoln Park 
Act Quickly: When water damage strikes, pick up the phone and call your local water damage restoration company right away! ServiceMaster of Lincoln Park is available 24/7/365 to provide certified licensed restoration professionals onsite within hours of your initial call.
Clear the Area: When water damage strikes, it is important to clear the area of any important materials, including furniture, paintings, etc., to help minimize water damage. However, if the source of the water damage is a broken sewer pipe or backed up toilet, you should leave the affected area alone.
Call your Insurance Agent: Next, document the water damage and report the issue to your insurance agent.
Do not attempt a DIY Restoration: There are actually several categories of water damage, including clean water, gray water, and black water. Each is more dangerous than the next. Do you know the difference? If not, it is best to leave water extraction to the professionals.
Chicago Water Damage Restoration from ServiceMaster of Lincoln Park Chicago
What do you do in the event of a flood, busted pipe, backed up toilet, or other form of water intrusion? How do you minimize the water damage? Who do you call? ServiceMaster of Lincoln park!
With over 20 years of experience in the water damage restoration business, ServiceMaster of Lincoln Park is the best choice for the job. We maintain a high standard of morals, values, and customer service and aim to restore your property as quickly as possible.
So why would you call anyone else?
If you have any questions about Chicago Water Damage Restoration, please contact ServiceMaster of Lincoln Park by calling 773-346-6767 or click here today!
ServiceMaster of Lincoln Park has spent the last 20 years helping people restore their lives back to normal!