Chicago is known for our cold, cold winters. Because of the frequent freezing temperatures, many homeowners have issues with frozen water pipes, which, according to the Insurance Information Network of California (IINC), ranks just behind hurricanes for the total number of insurance claims and the total number of homes damaged.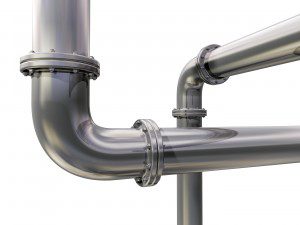 Frozen Pipes and Water Damage in Chicago
When a water pipe freezes and eventually bursts, it gushes water until the water supply is turned off. Unfortunately, this can go unnoticed for several hours, if not longer. Severe water damage can result, including soaked and damaged drywall, a water damaged floor, ceiling, and more. If not dealt with in a timely manner, this water damage can quickly result in mold, as well.
Fortunately, potential water damage from frozen pipes is preventable. Just take the following steps:
Turn off outside water supplies and disconnect outside hose connections.
Insulate any exposed pipes in your basement, under your home, on outside walls, or in attics.
Be sure to winterize any sprinkler system.
Make sure your thermostat is set to at least 55 degrees at all times, even when your home is vacant.
If you are away for any extended period of time during the winter, have a friend, family member, or neighbor check on your home from time to time.
Know how to shut off your water supply in case of a frozen pipe. Timely action can help minimize potential water damage.
       Call 773-346-6767 for Emergency Restoration!
Water damage can be extremely difficult to deal with. Let the Chicago water damage restoration professionals at ServiceMaster of Lincoln Park Chicago help you. With years of experience, we have the experience and the equipment to get the job done right!
We hope you have found this blog educational and helpful. Continue to check back for new home improvement tips each and every week.