As we have mentioned in previous blog posts, the Farmer's Almanac and climate experts at the National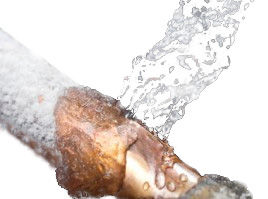 Oceanic and Atmospheric Administration are predicting another harsh winter here in Chicago.
The primary culprit: the polar vortex. "The polar vortex is a large pocket of very cold air, typically the coldest air in the Northern Hemisphere, which sits over the polar region," explains Alex Sosnowski, AccuWeather.com Senior Meteorologist. "Occasionally, this pocket of very cold air can get dislodged farther south than normal, leading to cold outbreaks in Canada and the U.S." The temperature has already begun to drop, which means homeowners throughout Maryland need to start preparing their homes for winter. Are you ready for the cold? More importantly, is your home ready? "Temperatures will plunge to 20 degrees below average in parts of the South," says Paul Pastelok, AccuWeather.com Long Range Expert.
Burst Pipes in Chicago
Did you know that a small leak in a pipe can expel 22 gallons of water a day? Now just imagine the damage burst pipes can do. With temperatures expected to drop below freezing, it is important to prepare your home for the worst. This means cleaning your gutters to help prevent ice dams and insulating pipes to keep them from freezing. In unheated basements and crawlspaces, frozen pipes present a very real threat. Frozen pipes can burst, causing flooding, structural damage, mold growth, and, of course, water damage. According to the Insurance Information Network of California (IINC), burst pipes rank just behind hurricanes for total number of insurance claims and total number of homes damaged each year. Preventing Frozen Pipes
Seal air leaks (drafts) around windows and doors.
Turn off outside water supplies and disconnect outside hose connections.
Allow your faucets to drip a little during cold weather, especially when the temperature drops below 20 degrees. This will help keep the pressure in your pipes from building up.
Winterize any sprinkler system.
Properly insulate walls, crawl spaces, and unfinished basements to help keep temperatures in these areas above freezing.
Insulate any exposed pipes in your attic, basement, or crawlspace.
Keep your thermostat at a constant temperature both day and night.
If you are away for any extended period of time during the winter, have a friend, family member, or neighbor check on your home from time to time.
Know how to shut off your water supply in case of a frozen pipe. Timely action can help minimize potential water damage.
Chicago Water Damage Restoration
ServiceMaster of Lincoln Park is ready to help with certified licensed restoration technicians available 24 hours a day, 7 days a week, 365 days a year. With over 57 years of experience in helping business owners and homeowners, like you, with water damage restoration, we are the best choice for the job. We maintain a high standard of morals, values, and customer service and handle every job with the utmost care, speed, and effectiveness Click Here to request an estimate today!
Hopefully you have found our blog, "The Season for Burst Pipes in Chicago," informative and helpful. Continue to check back weekly for more helpful tips. Happy Holidays from ServiceMaster of Lincoln Park!