Water damage is unpredictable. It can happen anytime, anywhere, but there are several rooms that are at a higher risk than others. The kitchen, bathroom, and basement are certainly at the top of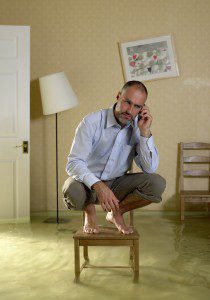 the list. If you experience a problem in any of these rooms (or any room for that matter), pick up the phone and call ServiceMaster of Lincoln Park right away. We are ready to help with certified licensed restoration technicians available 24 hours a day, 7 days a week, 365 days a year
The Risk of Basement Water Damage
When it comes to water damage, perhaps no room in your home is more vulnerable than the basement. Like the kitchen and bathroom, the basement is typically home to several appliances – such as the hot water heater, washer, and dryer. As these appliances age, their hoses begin to weaken, rust, and crack, resulting in leaks and water damage. Additional risk factors include:
Your home's plumbing typically runs through the basement and when one of those pipes springs a leak or worse, bursts, water damage is not far behind. A burst pipe expels between four and eight gallons of water every minute.
Because of its location below ground level, your basement is also prone to flooding, which is the reason you have a sump pump. It is your last line of defense against flooding. Unfortunately, sump pumps sometimes fail. When this happens, water has nowhere to go but into your basement, ruining your carpets, furniture, and other possessions.
ServiceMaster of Lincoln Park Helps with Basement Water Damage
As we have already mentioned, ServiceMaster of Lincoln Park Chicago is available when you need us most. We will arrive quickly; immediately begin cleaning, sanitizing, and deodorizing the affected areas; clean your belongings and, if required, safely store those belongings in our climate controlled pack-out facilities; and professionally prepare your home or business for reoccupation. As an IICRC Certified company, our technicians are trained to identify moisture sources, evaluate mold growth, contain damage, remove contamination, and dry structural materials in an effort to reduce your loss and preserve your property.     
Call 773-346-6767 for Emergency Disaster Restoration!