Now one of the hippest areas in Chicago, IL, Wicker Park is well known for its cultural opportunities, thriving nightlife, and fun entertainment scene. Whether you live in one of Wicker Park's historical buildings or you've moved into a new apartment complex within the community's borders, you may find yourself in need of residential cleaning or restoration services. You can trust those services to ServiceMaster of Lincoln Park.
Call us today for a quote – (773) 346-6767
Water Restoration Services in Wicker Park
Water may be necessary for life, but it can make life complicated if it gets in the wrong areas. As any homeowner or business owner knows, water damage can be extensive and very difficult to clean up. ServiceMaster of Lincoln Park offers complete water damage restoration for Wicker Park, Chicago, from one-story homes to multi-unit office complexes. During our years in business, we have created a system of water restoration techniques that gets you back to your pre-water damage life.
No matter the amount of water that gets into your home, it all ends up being a headache. ServiceMaster can get rid of your water damage problems.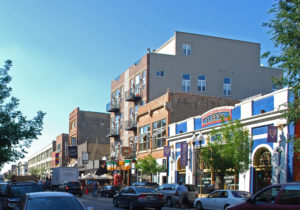 Mold is one of the nastiest unwanted surprises for any home or property owner and commonly occurs with water damage. Not only is it unsightly, but it can lead to health issues and structural problems. Many companies say they can get rid of mold, but the mold itself is only part of the concern. Even if you remove the mold you can see today, you must get rid of the underlying cause or it will keep coming back.
Our comprehensive mold remediation system and experience technicians allow us to find out why you have mold in the first place. We can then eliminate the problem at its source. Usually, excessive moisture is the culprit. After you get rid of the moisture, the mold will be unable to breed and grow.
Restore Your Wicker Park Property After a Fire
Even a small home or office fire can lead to big damage thanks to the additional problems of smoke and water. ServiceMaster of Lincoln Park uses proven methods to restore properties after a fire has occurred. We are accustomed to dealing with all the aspects of fire restoration and can even help you understand coverage by your insurance carrier.
Don't allow the damage from a fire to leave you without a place to live or work. Get yourself back to a normal routine with fire restoration services from a trusted professional from the Wicker Park area.
Residential and Commercial Cleaning for Spotless Spaces
Want to make sure all the spaces in your house or your commercial property are spotless and pristine? Contact ServiceMaster of Lincoln Park. We'll come as often as you need to ensure your carpets and flooring look and smell great.