Water damage can strike at any time, often without warning. And when it does, it is important to act fast to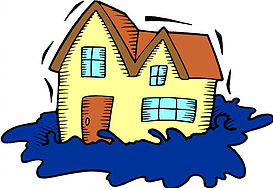 prevent additional damage. Water damage is a progressive issue, and, if not dealt with in a timely manner, could lead to structural damage, mold, and more.
Emergency Water Damage Restoration in Chicago
ServiceMaster of Lincoln Park has certified licensed restoration technicians on call 24 hours a day, 7 days a week, 365 days a year. Water damage doesn't work on a 9-5 schedule, so why should your water damage company? Click Here to request an estimate today! Call 773-346-6767 for Emergency Restoration!
Water damage comes in many forms:
Flooding: Heavy rain, sleet, and snow can overload your sump pump and cause flooding. Just a few inches of water can wreak havoc on your home.

 Click Here to learn more.
Burst Pipe: According to the Insurance Information Network of California (IINC), burst pipes rank just behind hurricanes for total number of insurance claims and total number of homes damaged each year.
Sewage Backup: If your sewer line becomes blocked with mud, yard waste, or even tree roots, black water can find its way into your home.
Faulty Appliances: As appliances age, their pipes and hoses begin to weaken, rust, and crack. When this happens, water damage is not far behind. Your refrigerator and dishwasher are two of the primary culprits. Others include washing machines and hot water tanks.
Roof Leak: When your roof begins to leak, nothing is safe. That water will eventually find its way into your living room, kitchen, bathroom, and anywhere else it pleases. Spotting and correcting a small roof leak early can save you a lot of heartache down the road. And More!
At ServiceMaster of Lincoln Park, we handle every water damage job with the utmost care, speed, and effectiveness. And with over 20 years of experience in the water damage restoration business, we are the clear choice for the job.