When water damage occurs, it is important to rectify the situation as quickly as possible. Timely Water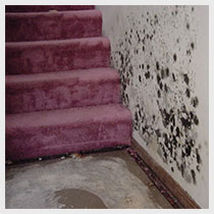 Damage Restoration is one of the best ways to minimize damage and prevent mold growth. But what makes mold so bad, anyway? It is just a fuzzy, ugly green patch, right? Wrong!
Health Effects of Mold from Untreated Water Damage
Not only can mold cause major structural damage over time, but it can be extremely bad for your health, as well. According to the Environmental Protection Agency, "mold can lead to a variety of health effects ranging from more common allergic reactions, to asthma attacks, and hypersensitivity pneumonitis." Additional health issues include: wheezing, difficulties breathing, sore throat, sinus congestion, persistent coughing, skin irritation or rash, vomiting, pulmonary hemorrhage, memory loss, liver damage, and much more!
If you find mold in your home, it is important to remedy the situation as soon as possible. The longer you wait to act, the worse the situation can become. Remember, mold spores can even find their way into your HVAC system, quickly circulating and spreading throughout your home.
Your Water Damage Restoration and Mold Remediation Expert
ServiceMaster of Lincoln Park Chicago is an IICRC Certified water damage restoration and mold remediation company.
"All IICRC-certified professionals have the training and experience to identify moisture sources, evaluate mold growth (visible or suspected), contain damage, remove contamination and dry materials to ensure that mold will not return," according to IICRC.org.
Call ServiceMaster of Chicago
Best of all, ServiceMaster of LincolnPark Chicago is available 24 hours a day, 7 days a week, 365 days a year, ensuring we are here when you need us! We are committed to providing excellent work, exceptional customer service, and above all, peace of mind
If you have any questions about Health Effects of Mold & the Importance of Timely Water Damage Restoration, please contact ServiceMaster LP Chicago by calling 800-515-1982 or click here today!