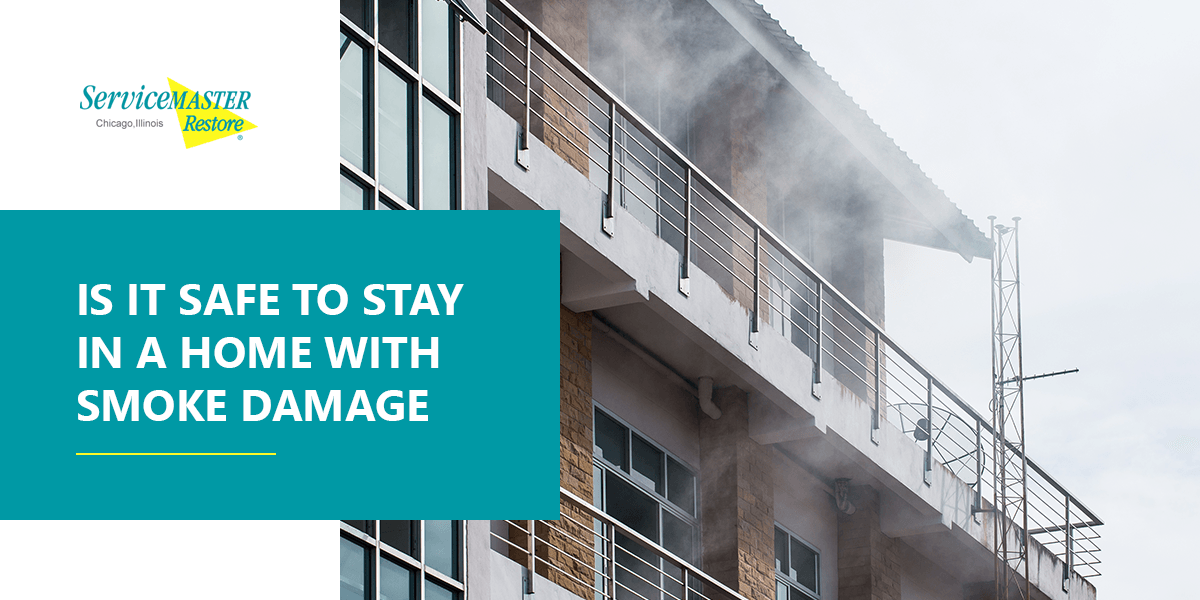 House fires can be a nightmare for homeowners to deal with, destroying priceless valuables and endangering your family's health. Smoke damage is the lesser-known, and sometimes hidden, additional issue in these situations. Due to smoke damage's variable nature, it's often challenging to understand and diagnose the associated dangers of staying in a fire-damaged house. Luckily, the experts at ServiceMaster of Lincoln Park have extensive knowledge on this area of expertise and can help you decide whether living in a house after a fire is safe if you experience smoke damage in your home.
What Is Smoke Damage?
When dealing with the aftermath of a house fire, you will encounter some property damage, even if your local fire department effectively contained and managed the emergency. Smoke damage is different from fire damage in that it comes from layers of soot and odor on walls, ceilings and furniture.
As you may already know, there is no such thing as a "typical" house fire. But you might not have realized the same is true of smoke damage, and identifying different types can help you effectively restore your home in the aftermath of a fire. Here are typical types of smoke damage you might encounter.
Wet Smoke
Wet smoke can be deceiving because the damage can often originate from unburned substances, but don't mistake unburned with untouched. Caused by low-heat, smoldering fires, wet smoke will come in the form of thick black smoke filled with soot. The low heat will often leave materials, typically plastic and rubber, in an unburned state. The smell it produces is unpleasant and very sticky. This smoke damage is tricky to clean due to its thick nature.
Dry Smoke
As opposed to wet smoke, dry smoke burns quickly and at high temperatures. Those characteristics may sound worse, but from a cleanup perspective, this powdery smoke residue is far easier to deal with than wet smoke. That does not mean cleanup will be a breeze, though.
This smoke is lightweight enough to infiltrate tiny cracks and porous materials in your home. After cleanup, some surfaces may appear restored, but retain the frustrating odors caused by the smoke. Typically, this smell won't be as obnoxious as the wet smoke odors, but still won't be pleasant.
Oil or Fuel Smoke
This type of smoke is the most easily identified because of its intense foul smell. However, it is less common in homes because it originates from burned petroleum, oil and other types of fuel. Some homeowners keep these fuel sources in the basement or garage. Any fabric touched by this smoke is likely a loss because the smoke leaves a thick, sticky residue that requires expert assistance to clean.
Protein Smoke
Even veteran home cooks can get a little carried away in the kitchen, which is where you'll most commonly find protein smoke, caused by the burning of organic matter. This type of smoke is challenging to identify because it is largely invisible, so there won't be any glaring black soot stains to catch your eye.
Discoloration and pungent aromas are typically this smoke's calling cards. If left untreated, the aroma can spread and penetrate your entire home or business. In other words, if it hasn't caught your eye, it will undoubtedly get your nose's attention.
Health Effects of Smoke
The fire department has extinguished the fire, our reliable team at ServiceMaster of Lincoln Park cleaned up the smoke for you and now you're wondering what damage the smoke caused to you and your family. The effects of smoke caused by house fires can vary from person to person, but everyone exposed could have health risks.
Smoke is a mixture of gases and microscopic particles caused by burning materials. These particles can penetrate your lungs, causing a significant health threat. Symptoms may include burning eyes, a running nose, aggravated chronic heart and lung disease, nausea, irritated throat and, in extreme cases, premature death. Smoke can affect anyone, so if you notice symptoms, seek medical attention immediately.
Like all major health risks, existing conditions might increase your risk of negative health effects. People with diabetes and heart or lung disease should take extra caution around smoke. Additionally, the elderly, pregnant and young children are at a higher risk of smoke's adverse effects.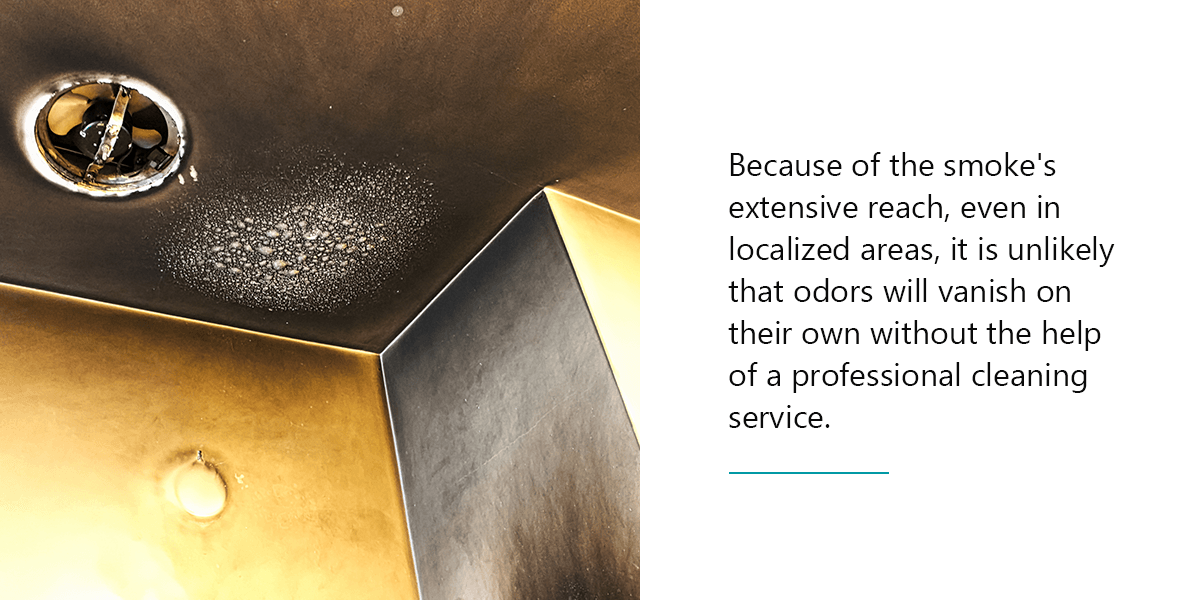 How Long Does Smoke Damage Last?
The duration of odors caused by smoke will vary widely depending on the smoke damage that is affecting your home. Regardless, without proper treatment and expunging, don't expect the smell to disappear with time.
Unlike the smell of burned popcorn, you can't expect house fire smells to go away on their own. Because the odors from smoke result from the soot and particle left on surfaces, they will remain until cleaned properly. Smoke can reach deep into your HVAC ducts, wiring, pipes and deep crevices. The smoke's fine particles can also settle onto carpets, books, curtains, clothing and even walls.
Because of the smoke's extensive reach, even in localized areas, it is unlikely that odors will vanish on their own without the help of a professional cleaning service. However, you can still take action on your own to help the smell go away. Ventilation and cleaning with white vinegar, soap and warm water can help reduce smoke smells.
How Long After a Fire Can You Move Back In?
Having a house fire can be devastating for homeowners. Besides losing cherished possessions, your home may be unlivable. While you might be impatient to move forward and put the mess behind you, there is no definitive timeline for doing so.
The first step is getting the insurance company involved. Many insurance companies will have resources for 24/7 temporary housing that can help you in the meantime. Additionally, check under your policy for additional living expenses to see what kind of repairs your insurance provider might cover, including:
Housing
Food
Pet boarding fees
Clothing
Toiletries
Medicine
After you notify your insurance provider, you'll need to speak with the fire department. Depending on the extent of the fire, the efforts to extinguish it can damage the floor, walls and roof. You'll want to secure these areas with tarps and boarding to prevent the elements and unwanted guests from entering. Your fire department and or restoration contractor will let you know who to contact about getting this done.
The repair process will vary depending on the fire's size, but typically, small house fires with little to no structural damage will take several days to several weeks. Medium house fires with moderate structural damage may take a few months. Extensive fires will take many months to complete, and in this case, your family will need long-term housing.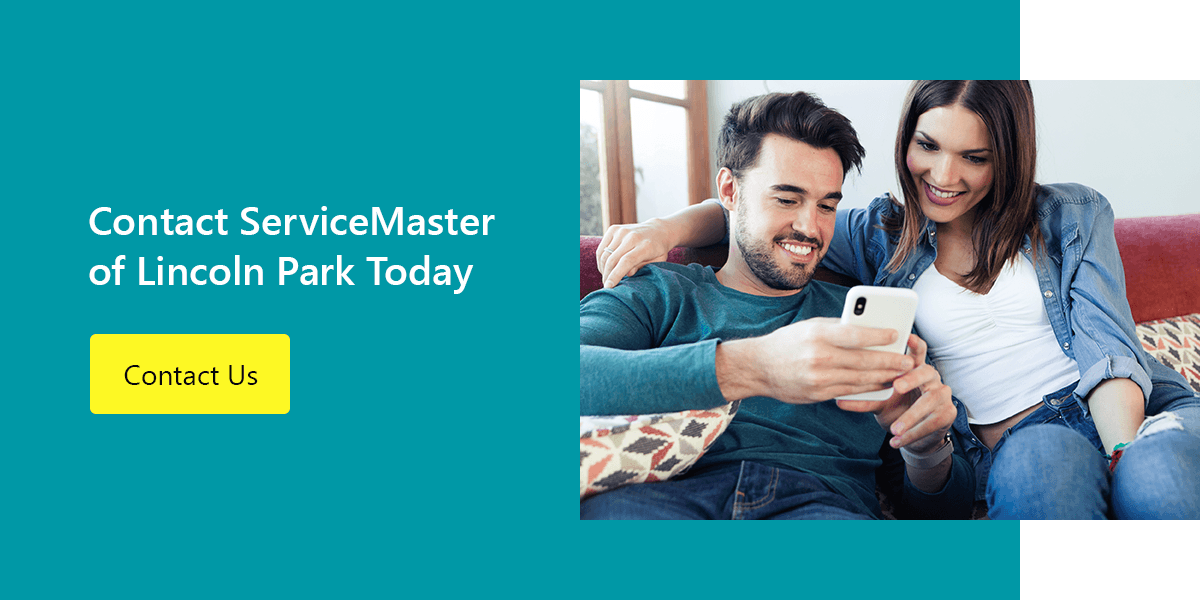 Contact ServiceMaster of Lincoln Park Today
To mitigate the long-term effects of smoke inhalation and smoke damage throughout your home, get the best service possible and act quickly. As Chicago's top fire and smoke damage restoration service, ServiceMaster of Lincoln Park can cover all your restoration needs from smoke cleanup, water damage repair, odor removal and even fire damage repair. Contact us today to see how we can help get you and your home back to normal.
Not sure if we service your neighborhood? ServiceMaster of Lincoln Park proudly restores the Chicago area with extensive knowledge and experience. Call us at 773-346-6767 to set up an appointment with one of our experts.