According to a survey by the Ponemon Institute, the average cost per minute of unplanned downtime is a staggering $7,900. While this figure varies drastically from company to company, one thing remains consistent; downtime is costly. And when faced with downtime, it is important to do everything in your power to get your business back up and running. However, sometimes things are out of your control and the best thing you can do is call in the professionals. This is especially true in the instance of an office flood.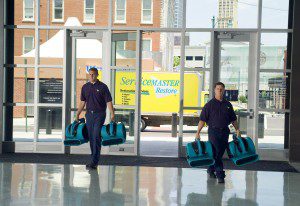 Nothing can derail a business quicker than a flood. Unlike other sources of downtime – such as a power failure or Internet outage – where employees can perform other tasks and stay relatively productive, flooding is quite different. When an office floods, it is best to keep your distance. Flood waters may be polluted with sewage or other contaminants, posing an immediate threat to employees, customers, and clients. This means that you will need to completely close your office until the threat has been dealt with. So pick up the phone and call ServiceMaster of Lincoln Park at the first sign of flooding. We will respond quickly and help get your business back up and running as soon as possible. Fast response is the key to minimizing both loss and downtime.
Office Flood Cleanup from ServiceMaster of Lincoln Park Chicago
ServiceMaster of Lincoln Park is ready to help, with certified licensed restoration technicians on call 24 hours a day, 7 days a week, 365 days a year. As an  IICRC Certified company, we will do everything possible to reduce your loss, preserve your property, and minimize costly downtime.
Our office flood cleanup services can have your business back up and running in no time. Our technicians are trained to identify moisture sources, evaluate mold growth, contain damage, remove contamination, and dry structural materials.
               Call 773-346-6767 for Emergency Restoration!​​
Water damage can be extremely difficult to deal with. Let the Chicago water damage restoration professionals at ServiceMaster Chicago help you. With years of experience, we have the experience and the equipment to get the job done right!
Hopefully you have found our blog, "Office Flood Cleanup from ServiceMaster of Lincoln Park Chicago," informative and helpful. Continue to check back weekly for more helpful tips.