Updated: November 15th, 2019
Winters in the Windy City can bring powerful ice storms, lots of sleet and heavy snowfall. The best way for homeowners to protect their investments and families is to ensure their residences are ready to meet whatever Mother Nature decides to throw their way.
If you live in Chicago, you will want to prepare your home for cold weather starting early in the fall. That way, you can meet winter's harsh wind and precipitation head-on.
What Can Go Wrong In Your Home in Cold Weather?
Ideally, cold weather would stay on the outside of your warm home. However, sometimes winter's fury can start to penetrate the walls, windows, and structure of a residence.
Below are some of the most common problems faced by Chicago homeowners during cold weather months:
Water Damage: Water has a way of finding even the smallest of cracks in the roof, window casings, crawl space or other exterior element of a home. When water gets into a house, it can quickly cause water flooding, not to mention an increased chance of mold development.
Structural Damage: As the thaw-freeze cycle continues throughout the chilliest season of the year, the foundation and structural materials of a home can be stressed. This can lead to damage that may affect the safety and property value of the residence.
Fallen Limbs: A falling tree limb can puncture almost any type of roof, exposing the interior of a home to the elements.
Downed Power Lines: In general, a downed power line not attached to a home will only cause power outages. However, if the downed power line is attached to the home or falls on the home, it can lead to widespread damage.
Damaged Roof: Heavy amounts of snow and ice that collect on the roof can cause it to sag and come apart.
Flooding: Although it might seem counter-intuitive to think about flooding when there are several inches of snow on the ground, floods are commonplace during thaws. The ground simply cannot soak up the moisture fast enough, creating runoff that can get into crawl spaces, basements, garages, and first floors.
How to Prevent Cold Weather Problems
Not excited at the thought of dealing with any of the above cold weather situations? Prevent all those you can with these strategies:
When it gets below freezing outside, keep faucets turned on slightly to create a slow drip to limit the likelihood of frozen water pipes.
Know what your furnace sounds like when it is running properly. Notice a change in its usual humming? Call your provider before the problem worsens.
Get your fireplace chimney cleaned and checked for the season. Do not build a fire in a fireplace that has not been examined by a professional.
Fix any roof damage or other exterior structural issues before winter comes.
Clean your gutters to eliminate ice jams and clogs.
Seal around your windows and doors with a proven type of caulk.
Winter Checklist for Your Chicago Home
In preparation for inevitable winter weather in Chicago, you should take a few steps to mitigate any foreseeable problems:
Call your HVAC provider and schedule a test of your heating systems. Fix any issues immediately to ensure a toasty winter.
Keep a supply of non-perishable food items and bottled water on hand in case of power outages. You may also want to buy a backup generator so you can charge your devices and radio.
Make sure you always have more clean blankets than you need. The blankets will come in handy if you lose electricity or a heat source.
Ensure your flashlights are operational. Do not assume that you can use the flashlight on your device because it may run down the battery too quickly.
Know where the main water valve is, in case you need to shut off the water supply due to a water pipe leak or break.
Put together a special first aid kit that includes any prescription medicines.
Watch Out for Snow & Ice Storms in the Chicago Area
An ice storm can be one of the most devastating winter storms. Ice storms are caused when a winter event starts as snow in the upper atmosphere. As the snow travels into warmer air it melts into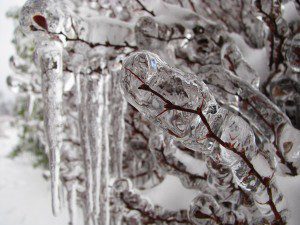 rain droplets. The rain then hits frozen ground and refreezes. This 'frozen rain' can quickly accumulate and entomb everything in the landscape with a glaze of ice so heavy that it can split trees in half and turn roads and sidewalks  into lethal sheets of thick, smooth ice. The results are fallen trees and branches, sagging or down power lines, treacherous, and driving conditions that can cause severe accidents. But the worst part of these storms is the massive power outages they can cause.
How to Prepare for an Ice Storm & Power Outages
Always keep a supply of non-perishable food items and water (don't forget a hand opener for canned goods).
Have extra blankets at the ready.
Always keep an extra supply of batteries on-hand.
Check flashlight to make sure they are operational, and have a battery-powered radio or small.
To prevent water pipes from freezing, keep faucets turned on slightly to create a slow drip. Also know where you your main water valve is in your house in case you need to shut it off if a water pipe does burst.
Keep these supplies in a central location where everyone knows to find them in the dark.
Some other things to consider might be putting any prescription drugs, special items and a first aid kit needed especially for the elderly and infants in a central location.  If you are going to use an alternate heat source, make sure to follow all manufacturer's safety guidelines.
If, despite your best efforts, you experience some form of water intrusion, whether it is a broken pipe, leaky roof, etc., it is important to call a professional water removal and experienced damage restoration company, like ServiceMaster of Lincoln Park Chicago. The quicker you act, the more likely we will be able to minimize water damage.
               Call 773-346-6767 for Emergency Restoration!​​