Of all the potential causes of water damage – which include broken pipes, flooding, a leaky roof, etc.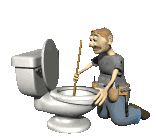 Perhaps the most feared is sewage backup.
Sources of Sewage Water Damage
While most homeowners associate sewage backup with toilets, there are a number of other potential culprits, including:
Tub drainage lines
Garbage disposal lines
Laundry waste lines
Overflowing storm drains
Causes of Sewage Water Damage
Sewage backup can be caused by a number of different factors. Most often, sewer lines become blocked with mud, yard waste, or tree roots. This slows and even completely blocks the path of water from your home to the sewer. As a result, water has nowhere to go but back into your home.
 Other common causes of sewage water damage include:
Flushing paper towels, feminine hygiene products, dental floss, Q-Tips, and more could cause problems. These materials do not dissolve like toilet paper.  Sanitary sewer lines are only designed to accept toilet paper and human waste.​
Not everything is meant to run through your garbage disposal, such as cooking oil, banana peels, onion skins, and corn husks.

As you can image, storm drains accumulate an inordinate amount of debris. When this happens, they sometimes clog and backup.
Chicago Water Damage Restoration
If you ever become the unfortunate victim of sewage water damage, you need to act fast. Pick up the phone and call ServiceMaster of Lincoln Park, your Chicago water damage specialist. We are available 24/7/365 to provide certified licensed restoration professionals onsite within hours of your initial call.
If you have any questions about Water Damage Restoration, please contact ServiceMaster of Lincoln Park by calling 773-346-6767 or click here today!