Water damage can be devastating. Sewage damage, meanwhile, is even worse. A form of water damage,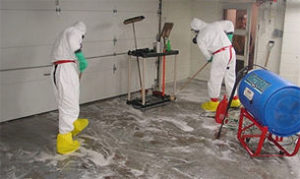 sewage damage is most often caused by a burst sewer pipe or backed-up toilet.
Sewage damage involves what is known as black water, the worst of the three categories of water. Category one, or clean water, refers to water damage that does not contain any contaminants. Category two, or grey water, refers to water damage that contains a significant degree of chemical, biological or physical contaminants, And category three, or black water, is the most dangerous of all as it has come into contact with fecal matter, a haven for harmful bacteria and disease-causing pathogens. For these reasons, it is important to call a Chicago water damage restoration company, like ServiceMaster of Lincoln Park Chicago, immediately! 
Sources of Sewage Water Damage
While most homeowners associate sewage backup with toilets, there are a number of other potential culprits, including:
Tub drainage lines
Garbage disposal lines
Laundry waste lines
Overflowing storm drains
Causes of Sewage Water Damage
Sewage backup can be caused by a number of different factors. Most often, sewer lines become blocked with mud, yard waste, or tree roots. This slows and even completely blocks the path of water from your home to the sewer. As a result, water has nowhere to go but back into your home.
 Other common causes of sewage water damage include:
Flushing paper towels, feminine hygiene products, dental floss, Q-Tips, and more could cause problems. These materials do not dissolve like toilet paper.  Sanitary sewer lines are only designed to accept toilet paper and human waste.​
Not everything is meant to run through your garbage disposal, such as cooking oil, banana peels, onion skins, and corn husks.

As you can image, storm drains accumulate an inordinate amount of debris. When this happens, they sometimes clog and backup.
Sewage Damage Tips From Your Chicago Water Damage Experts
First and foremost, do not come into contact with the contaminated areas and call a plumber to fix the problem immediately.
As we just mentioned, the next thing you should do is call ServiceMaster of Lincoln Park Chicago, your Chicago water damage experts. We handle every water damage job with the utmost care, speed, and effectiveness. Our goal is to restore your property as quickly as possible! And with over 57 years of experience in the water damage restoration business, we are the clear choice for the job.
Do not attempt a do-it-yourself (DIY) restoration. Not only is this not healthy, but it is also not smart. While a DIY restoration may seem like a great way to save money, it could end up costing you more money in the long run. Water damage restoration requires the right tools, tools which the average homeowner does not own.
Chicago Water Damage Restoration
If you ever become the unfortunate victim of sewage water damage, you need to act fast. Pick up the phone and call ServiceMaster of Lincoln Park, your Chicago water damage specialist. We are available 24/7/365 to provide certified licensed restoration professionals onsite within hours of your initial call.
If you have any questions about Water Damage Restoration, please contact ServiceMaster of Lincoln Park by calling 773-346-6767 or click here today!