It's likely that at least one room in your house has carpet. If excess water seeps into that carpet, it can cause a mess, whether it's from a flood or a broken pipe. The good news is that you can sometimes salvage carpet that sustained water damage. It depends on what kind of water leaks onto your floor, how much there was, and how long ago it occurred.
Read on to find out does wet carpet need to be replaced.
Can Carpet Be Saved if It Gets Wet?
There is hope for your carpet even after it gets wet. The key determiner in saving your damp carpet is ensuring it dries entirely within a window of 48 hours. If your carpet remains wet for any longer, it may be susceptible to mold growth and be unsalvageable.
It's important to call a professional after your carpet gets wet to determine if it's salvageable. A water restoration and cleaning company can determine if your carpet can be saved or if it should be removed.
Carpet Padding and Water Damage: How to Remedy a Wet Carpet
You can take many different steps to dry your carpet after flooding. For a mat with no pad, use a wet vacuum cleaner to remove the water. Set up fans and blowers around the house to open the windows and circulate the air if you can. Minimize the humidity by setting up a dehumidifier in the house.
If your carpet does have a pad, wear leather gloves and pull up the rug and the padding from the tack strip. Dispose of the pad immediately, as it will absorb water but not dry out. Next, lay the carpeting down flat and remove the water thoroughly with a wet vac. Use fans and blowers positioned to blow under the carpeting so there is air circulation.
Following water contamination, ensure your carpet has been cleaned thoroughly by enlisting the help of a professional. A water damage restoration company can also treat your carpet with an antimicrobial agent, replace its padding and reinstall it. 
How to Fix Water Damaged Carpet
The first thing you should do is take a good look at the water damage on the carpet. This will help you decide whether you can restore it or if you should decide to replace it.
This all depends on what type of carpet you have, how long the water has been sitting on your floor, and where the water came from. If the water was from rain, it is probably safe to restore your carpet. If it came from a toilet or a broken pipe, it could be contaminated — and you will need to replace your carpet.
---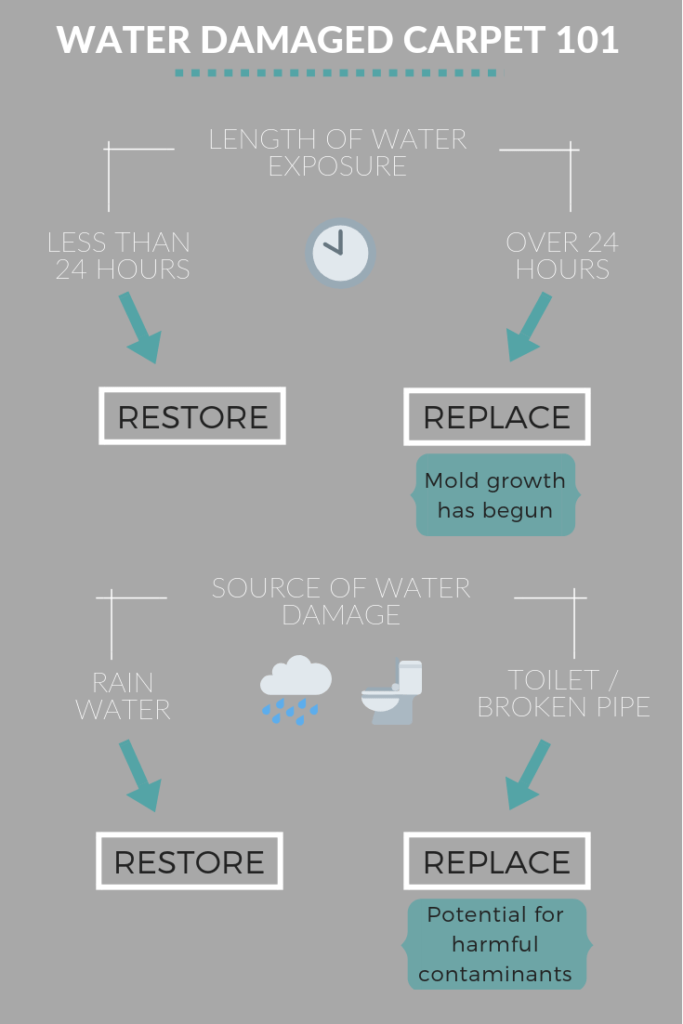 Contact Your Insurance Agent
Contact your insurance agent as soon as the damage occurs. If it's from water damage, it will most likely be covered under your homeowner's insurance policy. Flood damage is usually only included if you have purchased a separate flood insurance plan, however. Wait to do any work on your carpets until you hear from your insurance agent. They may pay to replace it or cover part of the repairs.
How to Clean a Water Damaged Carpet
Next, you should move all the furniture on your carpet to a separate area to leave the floor open. Use a disinfectant solution to scrub down your carpet. If you're replacing the carpet, you can cut through the carpet and padding around the affected area and then pull the carpet and padding out.
The carpet drying process could take a week or longer. You'll need large industrial fans and dehumidifiers. If you don't notice a difference in your carpet after a few hours, you'll need to replace it to avoid mold growth.
You Don't Need to Do it Alone
Although you can fix water-damaged carpets, you don't need to do it alone. The team at ServiceMaster of Lincoln Park is here to help with all of your water restoration needs. Ripping up water-damaged carpets isn't as easy as it seems. Be careful of injury, unseen mold growth, and finding a place to discard your carpet.
How Long Does it Take for Mold to Grow in Wet Carpet?
Mold is a serious concern in homes that have sustained water damage. It can start growing in 24 to 48 hours after a flood or water leak. It's better for your health to allow a professional to fix your water-damaged carpet, so you don't have mold growing in your home.
Don't wait to contact us for help with your carpet cleaning. Learn more about our water restoration and residential cleaning services today!