May and its infamous showers may be in the rear view mirror, but rain is always in the forecast. And you know what that means? The risk of water damage is ever-present. When heavy rains are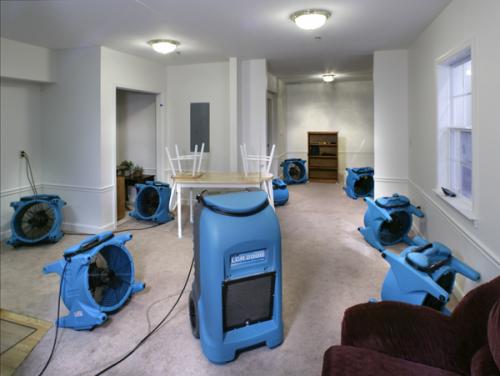 too much for your sump pump to handle, you could wake up to find yourself dealing with a Flooded Basement. When this happens, time is of the essence. The longer you wait to address standing water or moisture in your home, the longer that water has to damage your property.
So first thing is first; pick up the phone and call your local, Chicago water damage restoration company. At ServiceMaster of Lincoln Park, we handle all forms of water damage with the utmost care, speed, and effectiveness. We are available 24 hours a day, 7 days a week, 365 days a year to help you in your hour of need.
If there is any standing water, we will start by removing that.
We will remove any damaged carpet that is beyond saving, as well as other structural materials.
Then the drying process can begin.
Of course, we will also sanitize the area to discourage mold and mildew growth.
Because we are an IICRC certified water damage restoration company, you can be assured that the field managers at ServiceMaster of Lincoln Park are specialists in water mitigation and mold abatement. Our Water & Flood Restoration Services Include:
24/7 Rapid Response
Initial Assessment and Recommendations
Selective Demolition
Water Extraction and Dehumidification
Complete Structural Drying
Content Manipulation
Carpet, Rug, and Upholstery Cleaning
Sewage Contamination Cleanup
Next, call your insurance company and file a claim. According to the Farmers Insurance Group, 90% of household damage is the result of water damage and flooding. It is no wonder water damage is the 2nd most frequently filed homeowners claim in the United States (American Insurance Association).
ServiceMaster of Lincoln Park is an approved vendor for most major insurance companies, and we serve most local and regional insurance companies and claims offices. There are so many factors to consider in a crisis such as water and flood damage. Let us at ServiceMaster of Lincoln Park help you!
Hopefully you have found our blog, "If you wake up to a Flooded Basement in Chicago, you need help fast," informative and helpful. Continue to check back weekly for more helpful home improvement tips.