Most Common Questions and Answers During the Water Damage Restoration Process
If you need water damage restoration in your home, it's only natural to have questions about the water restoration process. What is water damage restoration, exactly, and how does the water damage restoration process work? For the answers to these questions, read on.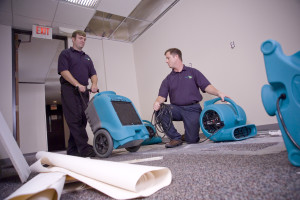 What Is Water Damage Restoration?
Water damage restoration is called for when some or all of your drywall has become saturated with water. This can happen due to a variety of reasons, such as burst pipes or flooding, but when it does happen, it needs to be resolved as quickly as possible. Water damage can cause your drywall to degrade, your paint to peel, your wood to swell and electricals to short out.
Additionally, if not properly dried, all furnishings, carpets and property that's saturated with water can develop mold and mildew, which looks unattractive and smells. But most importantly, it can be quite hazardous to your health.
What Is the Water Damage Restoration Process?
When you call ServiceMaster of Lincoln Park for professional water damage restoration services in the Greater Chicago area, we will send trained water damage restoration technicians to your home who will use time-tested drying and cleaning techniques to get rid of all the water, sanitize the premises and salvage as much of your property as possible.
Why Do I Need Professional Water Damage Restoration?
When your home suffers severe water damage, traditional DIY methods like towels and fans are unlikely to get the job done by themselves. Trained technicians understand the different types of water damage and how to approach them to restore your home the quickest and mitigate the damage as much as possible.
In addition, the mold that may develop as a result of water damage is toxic, and you may not want to come into close contact with it yourself, even if you take the necessary precautions.
Can I Afford Water Damage Restoration?
Contact your insurance company to see if water damage restoration is covered under your policy. You will often find that it is. For water damage restoration in the Greater Chicago area, ServiceMaster of Lincoln Park is happy to work with your insurance company if you a have a qualifying claim.
We will bill the insurance company for the water damage restoration, charging you only the deductible.
How Do I Get Started Restoring My Water Damage?
If your home in the Chicago area is water damaged, contact ServiceMaster restore online and we will send you an estimate on your job as quickly as possible at no charge to you.
Alternatively, give us a call at 773-219-0686 and a representative will be happy to help you get your water damaged home back as close to normal condition as possible right away.