Fire Damage Restoration in Chicago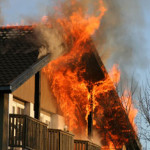 Fires can cause devastating damage to your home. After a fire, you just want your life to go back to normal, but you must deal with the damage the fire caused before you can move back in. For fire restoration in Chicago, trust the technicians at ServiceMaster of Lincoln Park. We are caring professionals who want to restore your peace of mind and your home or commercial building.
Symptoms of Fire Damage in Your Home
Fire damage often leaves properties unlivable. The fire can harm items and structures, and smoke circulates through the air, collecting on surfaces and causing health issues. Here are some common problems that fire restoration services address:
Odors: Fires leave behind odors that make it impossible to stay in a space. These smells are also hard to remove without the proper equipment.
Smoke: Even small fires can spread smoke far into your home. It might settle into crevices and ductwork in your home, causing long-term health issues.
Carpets: Carpet fibers naturally trap dirt and debris. After a fire, smoke will settle in the carpets, and removing surface debris won't reach all the smoke particles below.
Fire Restoration Services From ServiceMaster of Lincoln Park
Trust our caring and trained team to eliminate signs of fire damage from your home. We offer comprehensive cleaning to eliminate debris from fires. We're on call to help you remove smoke from hard-to-reach cracks and crevices in your home, and we can clean your carpets to eliminate every trapped particle.
Why Turn to Us for Fire Restoration?
Maybe you're considering the do-it-yourself approach to restoring your house after a fire. Here are some reasons why you should trust your residence to ServiceMaster of Lincoln Park instead:
Professionally trained staff: Fire damage can cause many unseen issues. Our team is trained to address fire damage, and we'll ensure your home is safe again.
24/7 service: After a fire, you want prompt service. We are available every day and night to restore structural damage.
Do-it-right promise: We promise to do the job to your satisfaction or do it over so you can be happy in your newly restored home.
Leave Your Home in Good Hands With ServiceMaster of Lincoln Park
Fires can turn your life upside down. They invade your property and leave you worrying about the long-term effects. For Chicago fire restoration services, we'll help you get your house back to normal so that you can feel comfortable in your space again.
If you've recently suffered fire damage, leave your home in our caring hands. Contact us online or call (773) 346-6767 to learn about our services.