An Ice storm can be one of the most devastating winter storms. Ice storms are caused when a winter event starts as snow in the upper atmosphere. As the snow travels into warmer air it melts into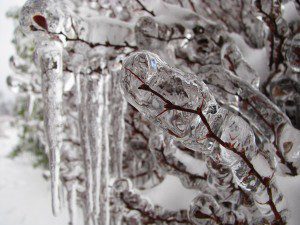 rain droplets. The rain then hits frozen ground and refreezes. This 'frozen rain' can quickly accumulate and entomb  everything in the landscape with a glaze of ice so heavy that it can split trees in half and turn roads and sidewalks  into lethal sheets of thick, smooth ice. The results are fallen trees and branches, sagging or down power lines, treacherous, and driving conditions that can cause severe accidents. But the worst past of these storms are the massive power outages they can cause.
In preparation of what might be a rain/snow/ice event, there are several things you can do to prepare.
Always keep a supply of non-perishable food items and water (don't forget a hand opener for canned goods).
Have extra blankets at the ready.
Always keep an extra supply of batteries on-hand.
Check flashlight to make sure they are operational, and have a battery-powered radio or small.
To prevent water pipes from freezing, keep faucets turned on slightly to create a slow drip. Also know where you your main water valve is in your house in case you need to shut it off if a water pipe does burst.
Keep these supplies in a central location where everyone knows to find them in the dark.
Some other things to consider might be putting any prescription drugs, special items and a first aid kit needed especially for the elderly and infants in a central location.  If you are going to use an alternate heat source, make sure to follow all manufacture's safety guidelines.
If, despite your best efforts, you experience some form of water intrusion, whether it is a broken pipe, leaky roof, etc., it is important to call a professional water extraction and water damage restoration company, like ServiceMaster of Lincoln Park Chicago. The quicker you act, the more likely we will be able to minimize water damage.
               Call 773-346-6767 for Emergency Restoration!​​
Water damage can be extremely difficult to deal with. Let the Chicago water damage restoration professionals at ServiceMaster Chicago help you. With over 57 years of experience, we have the experience and the equipment to get the job done right! 
We promise to have a technician at your home within hours of your initial call, no matter the time of day.