Lincoln Park has some of the most beautiful homes and commercial structures in the Chicago area. Steeped in heritage, this neighborhood has become a diverse community of cultural significance to people who want to work, play and live in a wonderful setting. When you need help maintaining the attractiveness and cleanliness of your residence or office building, trust ServiceMaster of Lincoln Park, Chicago, for disaster restoration, water damage restoration, mold remediation, fire restoration, residential and commercial cleaning and much more.
Lincoln Park Office Location
2333 N Seeley Ave.
Chicago, IL 60647
T: (773) 346-6767
F: (888) 990-1982
With the east side of Lincoln Park coming into contact with Lake Michigan, this Chicago neighborhood sees it's fair share of rain. Flooding is common through the spring and summer months in Lincoln Park. This past year, the average precipitation in August was over 5″. When buying a house in the Lincoln Park neighborhood, it is important to do your research and request the seller provides a Flood Insurance Claims History Report. Be sure to find flood insurance that works for you and your home. ServiceMaster of Lincoln Park will work with your insurance agent when tackling any flood damage and water damage restoration.
Contact our team members today to get a quote.
Learn Why Your Lincoln Park Neighbors Trust ServiceMaster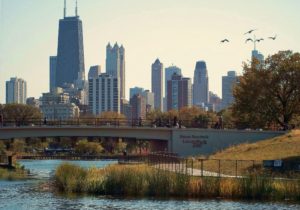 Accidents and natural disasters are bound to happen. When they do, it's important for you to have someone in your local area to count on for professional disaster restoration services. ServiceMaster of Lincoln Park has a reputation for successfully helping homeowners and business owners whose properties have suffered from water, fire and/or smoke damage.
Our proprietary cleaning techniques and environmentally friendly products help you gain peace of mind. When you hire us to finish any kind of disaster restoration project, we get the job done right — guaranteed. We always have your best interests at heart and make it a goal to exceed expectations. You deserve the relief that comes from being able to bring your structure back to a livable condition as efficiently and cost-effectively as possible.
Have questions about insurance coverage related to your damage cleanup? We may be able to assist you. Our team has dealt with many insurance carriers. Just talk to us about your questions when you call to set up your free quote for our emergency restoration service.
Mold Remediation Services
Water damage in your home increases the likelihood that your home has mold issues. Mold is an unpleasant result of excessive moisture build-up in a home or business. The majority of the time, removing the mold isn't enough to completely deal with the problem. ServiceMaster's expert term is trained in the entire mold removal and remediation process, giving you the peace of mind to know that the job was done correctly.
Mold remediation not only cleans up the mold and mildew you can see, but it addresses the source of the moisture problem. By getting rid of the source of the mold breeding ground, you can get rid of future mold growth. If you can see and/or smell mold, it's important to get it taken care of. Mold can cause significant damage to property, as well as become a catalyst for your families and pets health issues.
Contact ServiceMaster of Lincoln Park Chicago
Find out more about how the cleaning professionals at ServiceMaster of Lincoln Park have helped others in the Lincoln Park area get their houses and workspaces free from water damage, mold, and dirt. Contact us today for a free quote.