How To Clean out Your Air Ducts: Just in Time to Turn on the Heat
Are you planning on escaping Chicago's cold winter weather by cranking up your heat? When is the last time your air ducts were cleaned out?
During autumn's refreshing days, you may have been content without any additional heating or cooling. However, with cooler winter days steadily approaching, you'll want to prepare your home for fresh, clean, dust-free air for you and your family to breathe in.
Knowing When Your Air Ducts Need to Be Cleaned
Clean air ducts may not be the first thing you think of when heading into the winter weather but they should be cleaned regularly. Deciding when to get them cleaned typically depends on your home and the area you live in. Generally speaking, homeowners should strive to freshen up their air ducts every three to five years. However, if anybody in your home suffers from allergies or asthma, it is best to ensure clean filtration by cleaning your air ducts much more regularly.
With colder days coming, you'll be spending more time inside. Ensuring your home has clean, breathable air is a necessary action to take to keep those within your house healthy. Breathing in dust can cause asthma attacks and allergies to spike. Inhaling dust can even cause dermatitis and eczema to flare up. Dust can contain all different types of bacteria and fungi. All of which you and your loved ones do not want to be breathing in.
Depending on what region or area you live in, your home may be more susceptible to extra build up in shorter periods of time. If you notice mold in your air ducts, extra dust emissions or have an insect or rodent infestation near your duct work, it is important to have a professional take a look. Your air ducts should always be clean enough to ensure proper ventilation so that those within the home have clean and fresh breathable air.
How to Clean Your Air Ducts
Energy-efficient cleaning ensures your house doesn't have to go the extra mile to provide you with the heat you desire. Looking to attack this cleaning tip on your own? While it may help to do more frequent air duct cleaning on your own, it is still recommended to get your air ducts professionally cleaned every few years for desired expectations. To make those professional cleanings a little less frequent, try these DIY steps:
Carefully Remove Your Metal Register: Removing your floor register merely requires a quick lift. If your vent is attached to the wall, some basic tools may be required to unscrew the attachment before cleaning.
Use a Dryer Vent Brush to Remove Dirt: Purchase a dryer vent brush from your local hardware store or online to pick up any dust or debris obstructing clean air from flowing through your vents. Simply initiate the tool's actions and clean up the dust.
Clean and Vacuum: After you're done using your dryer vent brush, you may notice some dirt in your surrounding area. Vacuum up any dust that may have fallen onto your carpet. Use a damp cloth to clean within the duct as well before replacing your metal register back into place.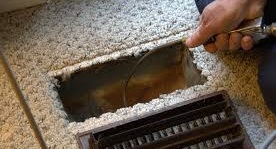 Hiring a Professional
While a quick DIY solution may be enough to keep your air ducts running smoothly between cleanings, consider hiring a professional for more thorough inspection and cleaning. Schedule your appointment before you're going to be using your heat on a regular basis for the best results.
Don't wait until you begin to visibly see dust flowing out of your air ducts. Dirt and dust affects not only your homes cleanliness but also your well-being. Proper respiration occurs when airflow is at its cleanest.
Winter is right around the corner. Get in touch with ServiceMaster of Lincoln Park to make sure your house is prepared for the cooler days ahead. Learn how ServiceMaster is the right choice for your home cleaning needs.