Between magazines, television shows, and the Internet, more and more homeowners are jumping on the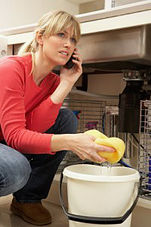 do-it-yourself bandwagon for everything from home repair to interior decorating to cooking. Still, there are some things that should be left to the professionals, like Water Damage Restoration.
Benefits of Professional Water Damage Restoration Chicago
Ease the Burden: Water damage can be extremely difficult to deal with. It disrupts your life, it permanently damages your home, and that is just the beginning. There are so many factors to consider in a crisis such as water and flood damage. That is why it is so much easier to hire a professional water damage restoration company.​​
Health Hazard: Depending on the source of the water intrusion, there could actually be some safety concerns. There are three varying degrees of water damage, ranging from clean water to black water. And if you do not know the difference between the types of water damage, you should not even consider a DIY restoration.
Experience: Professional water damage restoration companies have seen it all before. They have the knowledge to restore your home to its former glory.
Specialized Tools: When it comes to water extraction, consumer-grade equipment is just not enough to get the job done properly. Professional water damage restoration companies have specialized equipment to ensure full water extraction.
Hidden Water Damage: Sometimes, damage is not always obvious. It can be trapped inside walls, under carpets, or elsewhere. If you attempt a DIY restoration and fail to address hidden damage, the consequences could be disastrous…and expensive!
Dehumidification: A very crucial step in the restoration process, dehumidification requires a balance of technique between air movement and drying. If not dealt with correctly, mold could result.
Let the Chicago water damage restoration professionals at ServiceMaster of Lincoln Park help you. With over 57 years of experience, we have the experience and the equipment to get the job done right!
f you have any questions about Water Damage Restoration, please contact ServiceMaster of Lincoln Park Chicago by calling 800-515-1938 or click here today!