Renters' Rights to Water Damage in Chicago, IL
Renting a home or apartment offers benefits like not having to keep up with expensive renovations or making costly repairs, but there can be fuzzy lines between who is responsible for water damage in a rental unit — the renter or the landlord? It depends on factors like your lease agreement, insurance, and state laws.
Before entering into an agreement with a potential landlord, it's important for you to understand your rights as a tenant and what you can expect in an unexpected situation like a flood or frozen pipe. Some landlords may refuse to make any repairs or take longer than necessary to fix the problem, causing additional damages. If you're caught in a soggy situation, how can you determine who is responsible for the water damage in your home?
Review Your Lease Agreement
As a tenant, it's essential that you fully understand your lease before signing. If you have any misunderstandings about the language in your lease, ask your landlord to clarify points. In some cases, your landlord may have property insurance that will cover any water damage or other issues that arise in your apartment.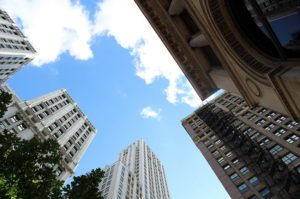 Part of signing your lease does ensure you live in a habitable place — if you experience water damage, you do have the right to cancel your lease if the damage is extensive enough. However, if you didn't understand your lease at signing, the documentation may state that the landlord can evict you if any partial or total water damage occurs in your rental unit.
Document All Rental Maintenance and Needed Repairs
The responsibility of a landlord is to keep properties maintained and perform repairs as needed. This maintenance includes making sure all toilets, sinks and bathtubs are functioning properly. If your plumbing isn't working correctly because of your landlord's negligence, then it's their responsibility to fix the problem.
To prove your landlord was negligent, you have to be prepared with documentation of when the plumbing problem occurred, when you reached out to your landlord and if they reacted to the problem promptly.
But keep in mind, not all water damage in a rental unit is the landlord's fault. As a tenant, you're also responsible for maintaining the property while you live there. For example, if your landlord informed you of how to properly care for pipes during cold weather and they burst due to your negligence, the landlord is not responsible. If the landlord did everything they could to educate you on proper cold-weather plumbing maintenance, then they can avoid paying for any damages.
Renters Insurance in Chicago
As a renter, you should always consider purchasing renters insurance for your unit if your landlord doesn't require it before signing your lease. Shop around to find the right insurance for you and your property — some will cover your personal property, others will pay for the cost to repair damages to floors, ceilings, and walls, while others may even cover the cost for you to stay in a nice place for the duration of repairs.
It is important to act fast once your experience water damage in your rental so being prepared with the above is key. Water damage can quickly lead to mold growth which becomes dangerous to your health. Learn more about renters' right to mold in Chicago.
Property and Personal Property Damage
Depending on whose fault the water damage was, insurance should cover the cost of repairs. Damages should be covered by your landlord's insurance, typically. If the damage is not due to the landlord, but to your error, then your renter's insurance should cover the repairs. If your plumbing issue is a surprise and no one's fault, then watch your landlord to make sure they don't try to avoid covering the repair.
In the case of your personal property, like with property damage, it depends on who is responsible for the damage. If the issue is due to your landlord not properly maintaining the property, then they are responsible. But if you neglect to report a plumbing issue or let your sink overflow, for example, then you are responsible for replacing or fixing your belongings.
State Laws and Chicago Renter Rights for Water Damage
If you experience difficulty with your landlord, then consult your state's laws to determine how to proceed. If you're in the Chicago area, renters have extensive rights. If you find your landlord has not maintained the property — including upkeep of the roof, appliances and plumbing, electrical systems, and overall habitability of the premises — you have a variety of options depending on your situation.
Your Chicago renters rights include:
Lease termination
Deducting the cost of repairs from month's rent if repair is less than $500
Withholding the cost of repairs from month's rent
Suing your landlord for damages
Water Damage in Your Chicago Rental? Call ServiceMaster of Lincoln Park Today!
At ServiceMaster of Lincoln Park, we pride ourselves on offering fast and friendly service to all of the residents in the Chicago, IL area. Our expert technicians offer a full range of services to cover your water cleanup and repairs and offer emergency 24-hour services. For your plumbing repair or cleanup, give us a call today at 773-346-6767 or complete our online contact form.