When it comes to water damage cleanup and restoration, time is most certainly of the essence. The longer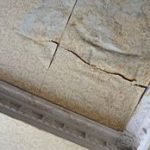 you prolong the restoration process, the greater the damage can and will become. Also, the longer you put off cleanup and restoration, the greater the risk of mold, which is something you do not want to have to deal with on top of water damage. This is why it is important to know the signs of water damage. The quicker you recognize the situation, the faster you can call for help.
Call ServiceMaster for Emergency Water Removal – (773) 346-6767
What Does Water Damage Look Like?
Water Stains: One sign of water damage is water staining. These stains can appear on the ceiling or walls and are signs of an issue hiding out of sight. Unfortunately, not all water damage is out in the open. Sometimes it occurs behind walls or in ceilings. When this is the case, water stains will be your first indication of a much more serious problem.
Standing Water: Another sign of water damage is standing water. No matter how much standing water you have, there is an underlying issue which needs to be addressed. This could range from a leaky window to a burst pipe, leaky roof, or an overflowing toilet. No matter the source of the water, the resulting damage needs to be dealt with as soon as possible.​
If you notice either of the above warning signs of water damage, contact ServiceMaster of Lincoln Park Chicago as soon as possible. Professional water damage restoration companies, like ServiceMaster, have specialized equipment to help them effectively remedy the situation and ensure your property is completely dry. Best of all, ServiceMaster of Lincoln Park Chicago is available 24 hours a day, 7 days a week, 365 days a year, offering 24/7 Rapid Response, professional water extraction, dehumidification, structural and content drying, and more.
 Call 773-346-6767 for Emergency Restoration!​​
Water damage can be extremely difficult to deal with. Let the Chicago water damage restoration professionals at ServiceMaster Chicago help you. With over 57 years of experience, we have the experience and the equipment to get the job done right!
Additional Water Damage Resources