Water Removal & Extraction in Chicago
When water isn't contained, it can quickly become disastrous. If your home or workplace has an unexpected water emergency, you have to make the right choice for fast, effective emergency water removal services.
In Chicago, ServiceMaster of Lincoln Park is ready to help you take back your home or workplace. Call us at (773) 346-6767 - twenty-four hours a day, seven days a week for our professional water removal services.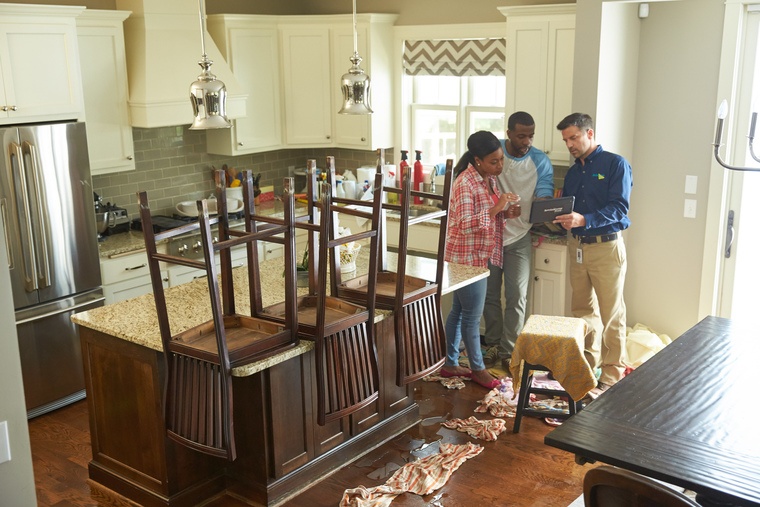 Chicago water removal services. While many people may think of the weather — such as excess rainfall — as the main source of water damage, it can actually have a variety of roots. Our certified technicians are skilled at completing flood water extraction and cleanup.
At ServiceMaster of Lincoln Park, mostly we see water damage that comes from overflowing water appliances, burst and frozen pipes, sewage and sewer backups and other related sources in addition to rain-related floods, damages and leaks. No matter why you need emergency water extraction in Chicago, we are prepared to clean restore your flooded areas
Testimonials
"I had the most awesome experience with Service Master of Lincoln Park, David and Andrew were wonderful!! They made the devastating stress of my water damage so much easier to get through. They went above and beyond in their help and kept me sane! I am an Insurance Agent that has recommended Service Masters to my clients for many years and have always had good feedback from clients. The professionalism and kindness by David and Andrew was outstanding. I very much appreciate all that you do!" - Sharon L. of Chicago - Google 
"ServiceMaster of Lincoln Park did a great job drying out my condo unit when the washing machine in the unit above mine flooded. Water from the flooded washing machine came pouring through my ceiling and every opening (into light fixtures, through openings for plumbing and HVAC, etc.) I called ServiceMaster of Lincoln Park and they arrived within one hour. They evaluated the situation and took steps to dry out my ceiling and walls. Their speedy service and efficient handling of the situation no doubt saved me from a lot more damage and more costly repairs! I would definitely recommend ServiceMaster of Lincoln Park for fast, professional, quality service. As a bonus, they work seamlessly with many home and condo insurance companies. Highly recommend!" - Kelly K. of Chicago - Google
"Dan and David are the very best. I was dealing with water damage from an upstairs neighbor's overflowing w/d, and in a stressful situation, these two are top-notch. They were incredibly helpful in explaining everything that was needed at each step, and they accommodated every issue that arose (not through their fault, but just the things that happen as you're going through a process like this). I highly recommend using ServiceMaster of LP for any projects, but if you come home to find wet floors at midnight on a Saturday, as I did, these are the guys to call!" - Sarah B. of Chicago - Google
Water damage doesn't discriminate. Untreated water can tear through your home with a destructive wake, draining your home's value and leaving you with an expensive repair bill. Water damage can also cause mold damage and poor air quality, leading to some serious health side effects.
Water damage can impact your home's structure from top to bottom:
Disintegrating drywall: Your drywall can soak up excess water like a sponge, causing sagging, saturation and eventual disintegration. Not only will this impact the integrity of your wall structures, but it also means your walls will be left with lingering contaminants.
Swollen wood: From wood studs and framing to cabinets and hardwood floors, your home is filled with wooden structures that can warp and rot if left in standing water.
Ruined carpets: Water-soaked carpets can begin to separate from their backing, causing permanent damage.
Hazardous pipes and electrical systems: If water reaches your pipes and wiring systems, it can cause serious damage and safety hazards like fires and electric shocks. Always call in a professional to handle your shorted-out electrical systems and broken pipes.
Contaminated HVAC systems: Once your HVAC unit experiences water damage, it can become contaminated and begin interfering with your indoor air quality.
How Long will My Property Take to Dry?
It's only normal to want a countdown for when your home will be back to normal. Unfortunately, there's no one-size-fits-all timeline for how long the drying process will take. The length of time it takes for your property to dry completely depends on factors like:
The size and scope of your property
The type of water damage sustained
How long the water lingered before being cleaned out
The severity of the water damage
The types of materials affected
Water restoration drying may take as little as two or three days. If your property was well and truly soaked for a long time, you're likely looking at a much longer wait. Our water removal and extraction team in Chicago assesses properties and offers guidance on a case-by-case basis.
Why Can't I Clean Up and Dry Out the Damage Myself?
To the untrained eye, water damage might seem like an obvious quick fix. Notice a leaking pipe or spot a small spill on the floor? It's tempting to grab a mop or a cloth and call it a day. The problem with water damage, unfortunately, is that the most harmful side effects are often invisible.
It's the water that's out of sight — behind your walls, inside your ceilings or under your stairs — that wreaks the real havoc.
Untreated water damage from a flood, broken appliance or burst pipe can rapidly cause mold and mildew growth, putting the entire structure of your home — and your health — at risk. Without the right tools and gear, you won't be able to locate the unseen water or repair it safely.
Beyond having the right gear and skills, it's important to remember the health hazards that come with water damage. Depending on the source of the water and how long it has lingered, standing water poses a serious health threat. Water can be filled with debris, bacteria and hazardous waste.
A professional cleanup crew knows how to contain a contaminated area, safely clean and disinfect it, improve your indoor air quality and ensure your home's structure is safe and sound.
While you might save some money on the initial cleanup, the costs of water damage quickly stack up and can leave you with a depreciated home value and a hefty repair bill.
On the other hand, the benefits of receiving water removal services from trained professionals include a reduced risk of long-lasting damage — and the peace of mind that comes with a thorough cleanup job.
Water Removal Services Allow You to Avoid Major Health Risks
Excess moisture that isn't immediately removed can lead to health problems and allergic reactions due to mold, mildew, and infestation of rodents and insects. This means every person in your residence or at your office building is at risk when flooding is involved.
Our water removal services are comprehensive, and the procedures we use enable us to completely dry out the affected areas, ensuring you have no excess water left in the space. Calling ServiceMaster of Lincoln Park at (773) 346-6767 is the quickest way to avoid problems related to moisture buildup.
Contact ServiceMaster of Lincoln Park Chicago
ServiceMaster of Lincoln Park is one of the top water removal companies in Chicago, IL. Every time you choose us, you get our guarantee. This means if you aren't 100% satisfied, we'll keep working with you until you are. It's the strongest promise you can get among suppliers of emergency water removal in Chicago, and it's one of the main reasons our customers appreciate us and refer our team to their family, friends, and coworkers.
Your Leading Water Removal Company in Chicago
It can be stressful to deal with water damage. Our team members are available night or day to come to you and give you a thorough evaluation and diagnosis of your water problems. From that point, we will work rapidly to extract all the water from your flooring, walls, ducts and furniture.
We can also help you discuss any water damage related questions with your insurance carrier. ServiceMaster of Lincoln Park has the experience to talk with insurance providers on your behalf as one of the top water damage cleanup companies in Chicago.
Premium water removal services are just a phone call away. Trust ServiceMaster of Lincoln Park Chicago the next time water threatens your peace of mind.
ServiceMaster of Lincoln Park in Chicago: Restoring peace of mind.®
Check Out Our Water Damage Resources