Any city that sits on a lake and features rivers running through its neighborhoods will experience flooding on occasion — and Chicago is no different. Even in 2019, Chicago experienced somewhat severe flooding that swamped neighborhoods after heavy rain. The Chicago River is certainly a blessing to the area, but it can pose a threat when it reaches flood stage.
It's important for residents in and around Chicago to understand what they are dealing with when it comes to severe flooding. When flood waters start to rise after heavy rain, Chicagoans need to take action to leave the area and keep themselves and their loved ones safe. If you live in Chicago and want to know which neighborhoods are most at-risk, here's a look at the data.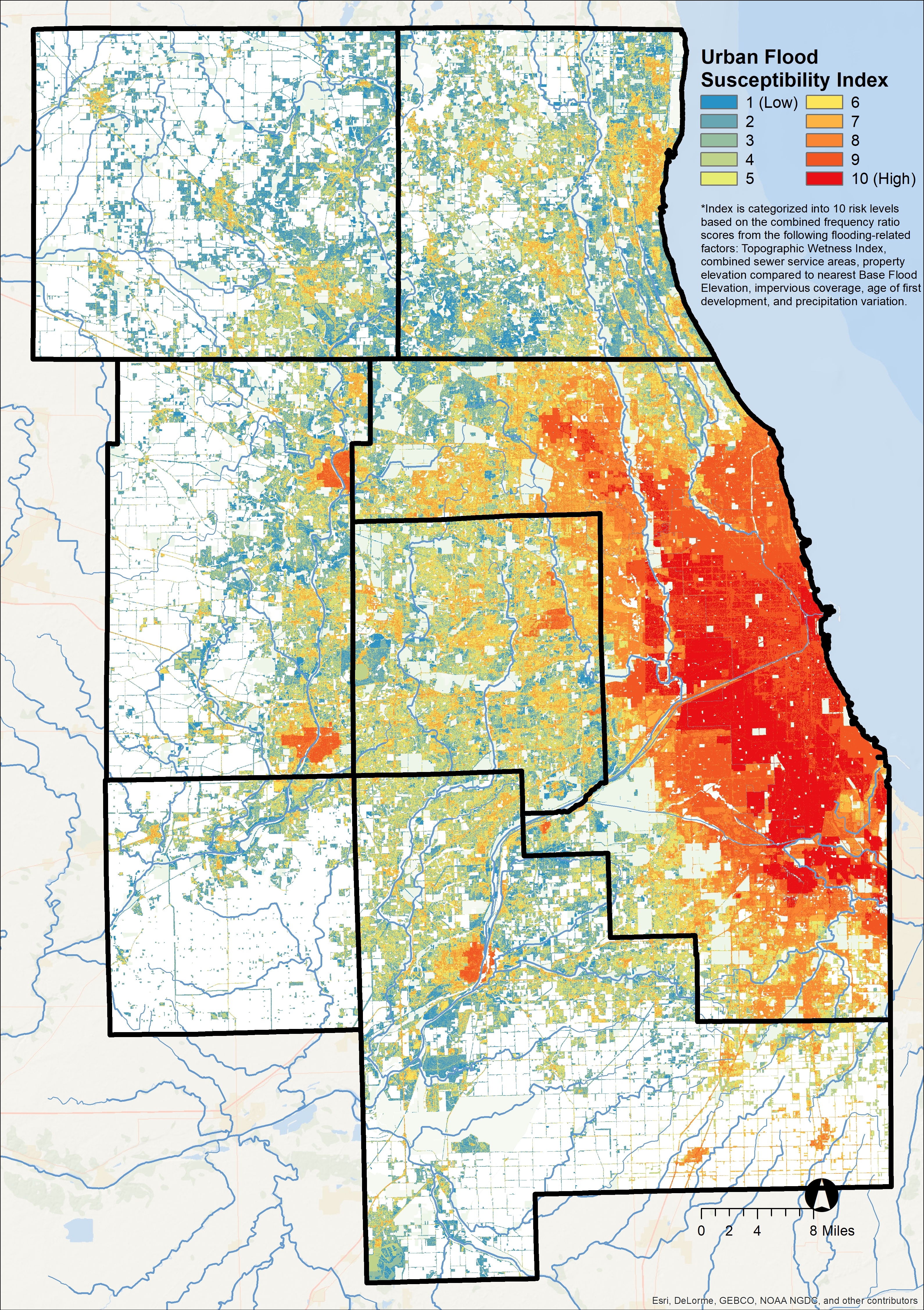 What Is a Flood Susceptibility Map?
Flood risk ignorance is responsible for nearly 40% of flood damage. So, understanding where floods will have the biggest impact is the first step to mitigating the risk. With tools like flood susceptibility maps, government officials and citizens can better understand which areas are more vulnerable to rising water and how to potentially lessen the damage when harsh weather hits.
Flood susceptibility maps are created based on land characteristics that may lead to a higher probability of flooding. These risk factors include land cover, distance to water, slope, elevation, soil drainage and more. Flood risk maps also use flood characteristics such as water level and frequency based on past events to determine which areas of the land will be more vulnerable in the future. These maps are often updated as the land evolves and weather patterns change.
While these susceptibility maps aren't in real-time, they are still invaluable for the preparation and prevention of extreme damage during heavy rain. Government officials can use them to increase public awareness and alert residents when they may be impacted. This system allows for time to evacuate or take the necessary precautions to prepare. These maps can also be used outside of emergencies to provide information for land use, the creation of insurance plans and the development of urban areas.
What Are the Types of Floods?
The area you live in determines your risk for flooding and the different kinds of floods that may occur. Understanding these floods is also vitally important to your safety, as you will know how they are caused and the impact they can have on a region.
The three main types of floods that you should be aware of include:
River Flooding
Typically, this kind of flooding is more common around larger rivers in areas with a wetter climate and is usually caused by excessive rain or melting snow. They occur when a river's water level overflows into the surrounding shores. To predict the probability of this flood in an area, flood risk mapping looks at forecasted precipitation, past precipitation, river levels and soil/terrain quality.
Flash Flooding
A flash flood results from excessive rainfall that causes a significant increase in the water height of a typically dry, elevated area in a short amount of time. These kinds of floods can happen anywhere — even in areas where water isn't present. Flash flooding is more common in locations with rocky terrain due to its lack of soil and vegetation, which prevents the rain from draining into the ground.
Coastal Flooding
A coastal flood can occur when high winds forcefully push water onshore, usually during high tides. This flooding, known as a storm surge, affects lower land areas and causes extreme damage in some cases. In addition to the topography surrounding the area, the intensity of the storm plays a role in estimating the probability and magnitude of a storm surge in your area.
Another type of coastal flooding is a tsunami, which is a series of massive waves.
Chicago's Flood Susceptibility Index
The Chicago Metropolitan Agency for Planning (or CMAP) uses an urban flood susceptibility index to rate the likelihood of flooding in different parts of the city. You can see the city mapped by index color, which shows most of Chicago south of Evanston and closer to Lake Michigan experiencing the greatest risk. South Side neighborhoods located near where the Chicago River heads southwest along I-55 and down toward Lake Calumet and the Calumet River are most at risk. Those neighborhoods include:
Brighton Park
Archer Heights
West Elsdon
Gage Park
West Lawn
Englewood
McKinley Park
Auburn Gresham
Chatham
Washington Heights
Washington Park
Roseland
Pullman
Avalon Pak
Calumet Heights
According to CMAP's maps, the areas on Chicago's western edge are least at-risk for flooding. However, the flood risk in those areas still exists, so it's important for residents to remain vigilant during extreme weather. If and when there's the threat of flooding in your neighborhood, stay tuned to the news and listen to local authorities as they make recommendations on how residents in the area should respond. It is important to be proactive and prepared for flooding. At ServiceMaster, we have seen too many devastating situations after a large flood. Keep your Chicago home safe by making sure your flood insurance covers everything you need it to, check your sump pump regularly, and keep your gutters clear in high rain seasons like spring and fall.
When You Experience Water Damage from a Flood, Call the Best Water Restoration Expert in Chicago
At ServiceMaster of Lincoln Park, we help homes and businesses return to their previous condition after flooding and other causes of water damage. We bring peace of mind amid difficult situations, and we help get people's lives back to normal.
There are all kinds of flooding situations and water damage, and each requires a different type of response for restoration. That's why we choose to offer comprehensive flood damage restoration services, including:
Water extraction
Structural drying
Floor drying
Carpet cleaning
Upholstery cleaning
Sewage cleanup
Antimicrobial treatment
Rug cleaning
Mold remediation
Odor removal
Stain removal
And more
We understand that water damage doesn't happen on a schedule, so we're available 24 hours a day and seven days a week to provide service at your home or business. Flooding and water damage are urgent situations, and we respond with the urgency those situations demand. Because of our rapid response, we're often able to fully restore flooring, walls and personal property.
Contact us today to learn more about how we can help after heavy rain brings the Chicago River to flood stage.